F&D International: Tuscany
Renaissance offers groups 'la dolce vita' in central Italy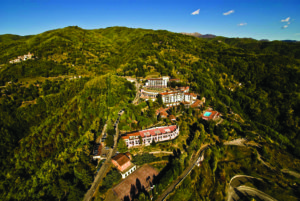 There's a famous quote that says, "Traveling is the ruin of all happiness! There's no looking at a building after seeing Italy." I tend to agree.
Tuscany's medieval buildings are particularly enthralling, as are its towering mountains and sunny landscapes. Along with these vistas, meeting and incentive groups can enjoy the fabulous food, wine and hospitality characteristic of this region of central Italy.
Flights into Florence or Pisa bring participants within taxi or van distance of the Sergio Valley in northern Tuscany. The hour-plus drive to the Renaissance Tuscany Il Ciocco winds guests past centuries-old villages topped by ancient bell towers, small farms and vineyards. The hotel rests within 1,500 acres bordering the Garanfanga region near the Apuan Alps.
And in case you are working with VIPs, fly them to the property by helicopter and land at the resort's private helipad.
Upon arrival, guests enter the lobby for check-in, but will likely return to this welcoming venue to converse over a glass of wine or morning coffee. Equally comforting are the guestrooms. Gregarious General Manager Georges Midleje jokingly says he gets so many inquiries about where to buy the bedding, he thinks he should open a franchise. Most Americans will find the marble-appointed bathrooms a bit small, but the balconies compensate with spectacular views.
The tiny medieval town of Barga lies across from the resort, presenting itself like a Renaissance painting. The town looks almost close enough to hit with a stone, but in reality it takes 10 minutes to drive down hairpin turns to reach the hamlet. Visitors enter the old city through ancient arched stone gates and meander along tiny cobblestone alleyways that lead to a surprising number of open piazzas. Attendees can embrace la dolce vita, the sweet life, and stop for an espresso, gelato or glass of wine and savor the ambiance of the moment as well as the view.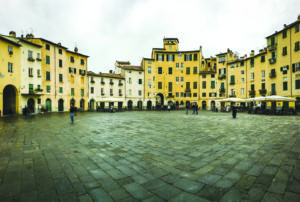 The Renaissance Tuscany's meeting space is located in a separate building behind the main hotel (with adjacent parking), yet connected through the fifth-floor walkway. Glass walls provide glimpses of Barga and the bucolic countryside. Planners will find a combined 18,708 sq. ft. of flexible spaces within 11 venues, all with windows except one. Salone Pascoli provides the setting for a larger conference, with seating for 500 to nearly 1,000. All conference rooms feature state-of-the-art technology, and knowledgeable AV operators are on hand.
Outdoor patios and vine-covered terraces make glorious spots for cocktail parties, small group meals or breakout snacks. The Penthouse and Presidential Suites are ideal for a reception or intimate dinner party. In all, the hotel contains 180 guestrooms including valley-view rooms and three new Junior Suites.
The fifth floor of the resort houses a spa with 12 treatment rooms, a sauna, whirlpool, indoor pool and relaxation lounge. An outdoor pool, located below the main restaurant, is seasonally open to all guests. The surrounding National Park-like acres are ideal for teambuilding experiences such as horseback riding, ATVing and mountain biking.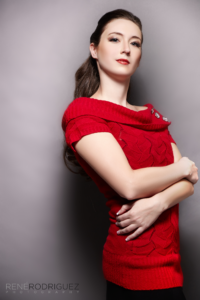 Planner Suzy Fielders, Marketing Associate with the Hayes Group, a Winston-Salem, NC-based organizational consulting firm, coordinated a Leadership Conference for 30 participants at the Renaissance Tuscany last October. Spouses/partners of participants were encouraged to attend both the meeting sessions as well as the group lunches and dinners. Fielders first initiated a conversation with national Marriott representative Kathy Rooney, who connected her with Cinzia Panella, Director of Sales & Marketing at the hotel. Fielders found the hotel staff friendly and responsive. She said there were no issues with language barriers, and concluded by saying, "The hotel property itself is stunning and the views were splendid. It's the ideal setting for any meeting and a wonderful place to go to as a meeting planner."
PISA AND LUCCA
In addition to the spa, cooking classes and trip to Barga, the Renaissance staff can arrange guided outings to other local cities. Pisa boasts the iconic leaning tower, a must-see for tourists. The Romanesque complex includes an art and sculpture infused cathedral, baptistery, cemetery as well as the famous bell tower. If time permits, arrange to move the group beyond the busy tourist arena and discover another side of Pisa: a university town filled with notable architecture, fountains and statues.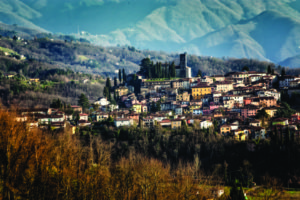 Another option is a half- or full-day trip to Lucca, which features equally impressive churches, palaces, buildings and parks. The city walls have been restored and present the most enticing five-mile circuit for bike riding, walking or jogging — no cars allowed. Lucca is the birthplace of Puccini, and the historic area features a museum devoted to him and his music. Lucca also offers excellent shopping and restaurants.
Afternoon wine tastings and meals can be booked at various vineyards or restaurants depending on the size of your group. The Slow Food movement showcases three major dishes for culinary enthusiasts: Prosciutto Bazzone (ham), Biroldo (blood sausage) and Pane di Patate (potato bread). Sample cheese and freshly sliced meats pair nicely with bold Tuscan red wines. Pecorino cheese topped with a drop of local honey finishes off the meal.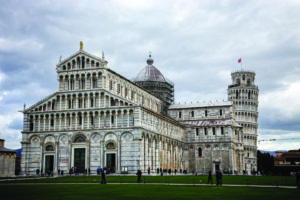 Planners can also consider scheduling a short stop to the photogenic Bridge of Mary Magdalene, where attendees can climb an inclined walkway that hovers above the water and snap a sensational selfie.
When next planning a European meeting, consider Italy and, in particular, the Renaissance Tuscany Il Ciocco, a great lodging option in one of the country's most memorable regions.
A TUSCAN CULINARY ADVENTURE
One of the Renaissance Tuscany Il Ciocco's most popular group events is the culinary experience that includes a trip to the market in Barga. Executive Chef Allessandro Manfredini — a semi-celebrity known by all the fishmongers, cheese sellers, fruit stands and deli/trattoria vendors — leads the tour. Class members (up to 10) help the chef pick out the ingredients, and then head back to the hotel kitchen to begin preparation.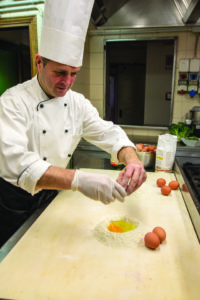 My cooking lesson started with making spinach ravioli. I mixed and kneaded the dough, then let it rest, before rolling it paper thin. I asked Chef Manfredini, "Is this the correct thickness?" "No," he replied. "Not until you can read newsprint from a paper held behind the dough." I went back to rolling!
Class members also made eggplant Parmesan topped with the most tasty local cheese and thick tomato sauce, steamed green beans and lightly fried zucchini flowers. Desserts included a hand-whipped tiramisu and a stunning fruit tart.