GULF SHORES, AL – After two years of waiting, fans of the Hangout Festival returned to the
beachfront for a weekend of live music. Headliners included Post Malone, Fallout Boy, Halsey,
Tame Impala and Megan Thee Stallion. More than 40,000 fans turned out for the sold-out,
three-day event, and Bandit Lites provided the festival lighting system for the main Hangout
Stage and the Surf Stage.
Bandit's Vice President of Production, Dizzy Gosnell, has designed the festival lighting rig for
many seasons and he meticulously works to ensure the headliners on each stage have a
a plethora of lighting to work with from washes, spots, beams, strips/strobes, and blinders/safety
lights spanning across both rigs.
"The first thing I try to get is to layer the lamps on each truss," explained Gosnell. "For example,
having lamps perched from the top chord, outrigged down from the top chord, mounted hung
down from the top chord, perched up on the bottom chord, and then hung under the bottom
chord. On one truss this gives you five layers for the audience from just one truss. You do that
with four cross-stage trusses and stepping them, you now have twenty layers or more of big,
repeated arrays, without choking the roof for visiting acts bringing in their own elements if they
want to."
LED blinders function both for the show and as 'house lights' for safe exits if needed during
weather evacuations.
"We've used that a few times for weather evacs, and they work really well compared to the good
'ol DWE heads that needed massive amounts of genny power to keep running," shared Gosnell.
"LED blinders can run on a much smaller genny set so they can shut the big ones down if needed."
The Main Stage base system included Chauvet Maverick MK3 Spots, Claypaky Sharyps,
Claypaky Mythos 2, Elation SixBar 1000 IP65, Elation SixPar 100 IP65, Elation CuePix WW4
and GLP X4. The Surf Stage base featured Chauvet Rogue R2X Washes, Claypaky Mythos 2,
Elation ACL 360 bars, Elation SixPar 100 IP 65 and Elation Paladin IP 65.
Bandit also supplied lighting for Zedd, Megan Thee Stallion, and Fall Out Boy's sets on the Surf
Stage.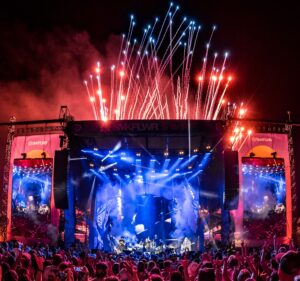 The most important factor in the rig was giving the visiting LDs as many toys in the air as
possible for both nighttime with haze, as well as during the day so there is some bump and
grind action for the daylight hours.
"Of course, budget is an issue," noted Gosnell. "'More lights, fewer motors' is one mantra I keep
at the front of my mind. No one buys a ticket to see a motor or a truss, they'd much rather see
something with light coming out of it. I keep the same mindset on trucking, which may be even
more true today with trucks being scarce and at a premium. I make the system as efficient as
possible for truck space. This year we got the two systems into two trucks with a third for added
floor packages for various acts."
Gosnell does note that all his "scribbles and doodles" would be useless without the people who
put it together and make it run.
"Without fantastic crew chiefs Sam Morgan (Main) and Kelly Feild (Surf) and our wonderful
techs Carter Hopkins, Andrew Ellis, Jake Riddell, Tim Keller, and Brian Bogovic, nothing would
have happened onsite," he said. "Their tireless work in some rather heavy weather and
demanding overnight schedules this year was amazing."
Additional support was provided by Bandit's team in the Nashville shop. Project Manager Gene
Brian (Geno) oversaw and masterminded the actual build of the two systems as well as served
as the point, man for headline LD's on patch, desk, and control issues.
"He ran a really right ship for the prep and build of the rig," Gosnell praised. "Finally, Lambda
Productions, the venerable Hadden Hippsley, and stage managers Joe Gordon and Paul
Gussack really made things as smooth for us as they possibly could and were totally supportive
of our guys and gals onsite."
About Bandit Lites, Inc.
Bandit Lites is a full-service design, management, and producer of live events, theatrical
productions, and live shows. Bandit Lites has a full staff of highly trained professionals to deal
with all types of production needs. Bandit's presence will insure seamless transitions no matter
where your next show takes you. More information is available at www.BanditLites.com