F&D International: Cancún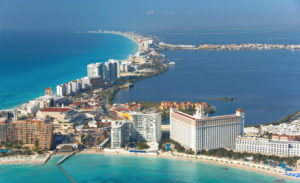 The spark to transform a sleepy fisherman's town on Mexico's Yucatán Peninsula into a high-rise hotel haven occurred in the early 1970s. The development of Cancún's white sandy shores launched as a tourism project to bring income to the state. When initial construction teetered, the Mexican government stepped in to fund the first resort hotels. The project eventually caught fire and resulted in over 32,000 hotel rooms, including 60 all-inclusive resorts, within a 17-mile Hotel Zone. That hotel infrastructure is needed to accommodate a growing influx of visitors: Nearly 20 million people passed through Cancún International Airport in 2015. Among Cancún's finest options for meeting groups are the Grand Fiesta Americana Coral Beach and the two properties that comprise Marriott's Cancún Collection: CasaMagna Marriott Cancún Resort and the JW Marriott Cancún Resort & Spa.
GRAND FIESTA AMERICANA CORAL BEACH
This resort takes full advantage of its beachfront location. Each of the Grand Fiesta Americana's 602 guestrooms includes a private terrace overlooking the shimmering waters of the Caribbean. The resort's design is no small feat; all lobby and restaurant windows also face the beach. Planners have at their disposal a private beach area that can be custom decorated for cocktail parties, formal or casual receptions, and dinners.
Overall, the Grand Fiesta Americana houses more than 80,000 sq. ft. of indoor and outdoor meeting space for groups of 10 to 1,700. The unobstructed Grand Coral Ballroom offers 15,351 sq. ft., which can be subdivided. The room can handle 1,100 seated or 1,700 theater style. There are also 20 breakout rooms. A U-shaped boardroom seats 14.
Meeting planners find themselves in excellent hands with the onsite staff of event managers and an award-winning, state-of-the-art audiovisual team. They can coordinate every detail of single to multiday events as well as air and ground transportation.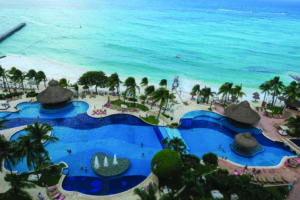 Jan Levine, President of JSL Meeting & Event Group in North Carolina, has worked with the hotel numerous times. She affirms that all of her clients have been pleased. "I can't say enough about the management staff. They go the extra mile and do what they do very well," she says. "They listen and have amazing commitment. The in-house team understands what you, the planner, are looking for and will find a way to make it happen."
Jim Bozzelli, Vice President of Meeting & Incentive Travel Management at Illinois-based Gavel International, brought a multi-wave corporate incentive program to the Grand Fiesta Americana from March 24 to April 17, 2015. The family program included nearly 1,700 adults and children utilizing onsite pools, swim-up bars, beach and watersports. Offsite events included tours to Chichen Itza, Tulum and the Selvatica zip-lines.
Bozzelli comments, "From the managing director on down, the staff at the Grand Fiesta Americana Coral Beach was extremely professional, friendly, efficient and fun. Their strong team effort contributed to a very successful incentive program for our client." Positive words from a company that operates over 125 meetings for 100,000+ attendees annually.
Spacious Guestrooms
The majority of the guestrooms, 520 of them, measure a comfortable 560 sq. ft. and include marble-flooring with private sitting areas and balconies overlooking the beach. In addition, the resort offers 79 Master Suites with 860 sq. ft. of space, king-sized beds, marble floors and private sitting areas. Double vanities, a Jacuzzi, and separate shower complete the bathroom. Large terraces are furnished with reclining loungers and table and chairs.
The hotel is topped with 80 Grand Club Suites located on the Grand Club Level. These Junior or Master Suites feature private balconies with panoramic vistas a seafarer would envy. The Grand Club (or what is typically called the Concierge Level Lounge) offers a variety of culinary creations and premium beverages both in the lounge and beachside sundeck. A multilingual concierge is available.
Two Presidential Suites await VIPs at the top of each tower of the resort. These ultra-luxe two-level suites, measuring 5,410 sq. ft., boast expansive rooftop terraces complete with a private pool, a master bedroom with a Jacuzzi and steam bath, twin-bedded guestroom, dining room, spacious living room and full kitchen.
Pool and Beach
A real showstopper, the resort's lagoon pool is divided into sections via waterfalls, islands, bridges and three swim-up bars. The various areas separate the guests in the area, so the pool decks never seem crowded. The outdoor restaurants cater to the swimsuit crowd. Stairways from the pool lead down to the pearly sand beach lined with chaise longues and cabanas.
The Gem Spa
The luxurious Gem Spa, measuring a whopping 43,046 sq. ft., was added as an $8 million investment in the property. The multilevel spa is a must for groups to experience. Arrangements can be made for smaller groups (up to 100) to enjoy dinner, dessert or after-dinner drinks in the sublime surroundings. However, the spa's 10-step, one-hour hydrotherapy ritual is what guests rave about. All individuals signed up for a spa treatment may indulge in this complimentary pre-service.
Dining Options
Isla Contoy, a casual beachfront restaurant under a grand canopy, showcases fresh seafood and Mexican favorites along with stunning seaside views. For fine dining, the resort offers Le Basilic, one of only a few in Mexico to hold the AAA Five Diamond distinction. Le Basilic presents an innovative French-Mediterranean menu created by Chef Henri Charvet of Paris, who holds the title of Maître Cuisine de France. Chef Charvet blends his new love of local Mexican products with his French culinary techniques. Local artwork enhances the candlelit atmosphere. Live jazz musicians add to the vibe.
Tequila tastings can be staged in the resort's authentic Mexican restaurant, La Joya. Guests sample a three-tiered tasting of Mexico's national spirit and learn about tequila's history and aging process. It's an ideal first-night event.
A bountiful champagne brunch/breakfast buffet is laid out daily at Vina del Mar, whose floor-to-ceiling windows make the room feel like an aviary — a lovely spot to start the day.                 —Debi Lander 
THE MARRIOTT CANCÚN COLLECTION
The CasaMagna Marriott Cancún Resort and the JW Marriott Cancún Resort & Spa are conveniently situated beachfront and less than 20 minutes from the Cancún International Airport. Christopher Calabrese, Vice President & General Manager of the Marriott Cancún Collection, highlights several other reasons why the resorts are popular with groups: "The Marriott Cancún Collection offers the largest conglomerate of hotel rooms in Cancún properties. This is because our sister properties, the JW Marriott Cancún Resort & Spa and CasaMagna Marriott Cancún Resort, are located side by side, offering over 88,000 sq. ft. of flexible indoor and outdoor event space and 898 guestrooms combined. In addition, we offer a 2,000-plus-ft. stretch of beach for events."
All of the shared meeting space is centralized on the lobby level, so meeting attendees can easily navigate between the properties. "From a logistical standpoint, a huge upside at our properties is that meeting attendees don't have to leave the buildings to reach a convention center, as they would have to do in some of the neighboring properties," says Calabrese. There are a total of 30 breakout rooms, including 12 at CasaMagna Marriott Cancún Resort and 18 at the JW Marriott Cancún Resort & Spa.
While the properties can accommodate all kinds of events, "nearly 99 percent of our group business comes from incentive groups," says Calabrese. "While we see more domestic business in April and May, otherwise known as shoulder season, the remainder of the year we have mostly North American clientele in house, probably because of Cancún's accessibility as a destination and our prime location within the Hotel Zone. While we do see a fair amount of business from corporate groups and associations — for example, a pharmaceutical company launching a product — it's mainly incentive."
Event Design
The Marriott's Events Team works closely with client meeting planners to amplify their event through the integration of activities such as group fitness classes, which include kickboxing, yoga and spinning. The team also provides consultation on the design of special events and customizes the experience through its vendor partners.
"With our AV vendors, J&S and Sterling, we can transform our meeting spaces and bring meeting planners' vision to life. We bring in magnificent props, and can change everything from the ceiling to walls to flooring, which is amazing for award presentations and big events," says Calabrese. "Another offering that distinguishes us is our Red Coat Direct meeting planner app, which is a very useful tool that allows for constant communication between the meeting planner and our events team. With the app, they can let us know any needs without leaving their chairs, from coffee refills to room temperature change and anything else that comes up. We also just upgraded our Internet bandwidth to 300 mb, so our WiFi speed is lightning fast throughout both properties."
Restaurants and Amenities
From Thai and Japanese to Argentine, fine Italian and American Southwest cuisine, the properties have nearly every craving covered. "All-inclusive meetings are on the rise, and for meeting planners who select an all-inclusive program, we have eight specialty restaurants between both hotels that are available to groups, regardless of which property they book," Calabrese explains.
The properties share a 1,000-sq.-ft. Mayan-inspired spa facility, which is home to tennis courts, an indoor lap pool, Jacuzzis, plunge pools, steam rooms and saunas. Quiet adults-only pools and Bali daybeds offer a relaxing place to unwind in between meeting sessions.
Renovation Plans
The CasaMagna Marriott Cancún Resort will complete a $20 million guestroom renovation in October. As part of the project, wraparound balconies overlooking the ocean will be added to the Caribbean Suites and Executive Suites. Bathroom renovations have already been completed, including the installation of new, luxurious "Rain Forest" shower systems. The JW Marriott Cancún is scheduled for renovations starting January 2017.                   —Rachel Kapur